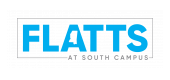 Your Review
Submit a Review

Resident Reviews
|

Recommended: Yes
Hello Mallory, Thank you so much for your feedback! If there is anything we can to do assist in making your stay with us more pleasant feel free to contact our front office at 662-281-1335.
|Recommended: Yes
Quiet, Stylish, Affordable — I really love my apartment and the staff is always so helpful. My main complaint would be when other residents leave trash on the stairs or in the parking lot.
Thank you Kate for your review. We love having you living with us at Flatts. We will continue to work with residents and our teams to keep Flatts looking good.
|Recommended: Yes
I think the walls need to be painted better many of my posters took me a while to stick using command strips. Some places had roaches we reported and I am not sure if it was already fixed or not. — I would say that they have a great customer service and do their absolute best to keep their people happy, I would tell them that it is a great and cozy place to stay.
Thank you Dominic for your review. I will pass this on the team. They will love hearing your thoughts.
|Recommended: Yes
Easily accessible and student friendly — It is a very decent living space. The bedrooms and bathrooms are both nice sizes. The complex is student friendly. Overall, this is a great starter apartment.
Yasmin, Thank you for your kind words. We really love our residents. Thank you be helping make Flatts a great place to live.
|Recommended: YesQuiet, nice, and good location — Staff is very helpful and nice. Apartment is spacious and good layout. It quiet and has security. Really enjoy living here very professional and put together.
|Recommended: YesThe apartment is nicely furnished and has a great amount of space for one person — I would recommend someone to live here.
|Recommended: Yes
Excellent place to stay — Excellent place to stay
Thank you Dave for your kind words. We love having you and your wife with us.
|Recommended: YesBest Place I Could've Picked — This is my first semester at Ole Miss as a graduate student and I was hoping to find a place that offered a nice 1-bedroom with a god community. Flatts not only gives me that but even more so far since moving. It's a beautiful and quiet property, staff is always so helpful and patient with any question I or my family had, and besides the walls being a little thinner than my liking, I love my apartment.
|Recommended: YesGood — This is a nice area to live in and it is conveniently located next to the South Campus Recreational Facility.
|Recommended: Yes
Low cost living for a good quality apartment — The rent is cheap and the quality of the apartments are fair and good for the price
Thank you Edgar for your review. I couldn't agree more. Flatts is a great place and we are glad you found us.
|Recommended: YesWonderful place, small but nice. — It's comfortable. And it's clean Although the main floor not the bedroom carpet does keep a lot of dirt.
|Recommended: Yes
Look nice — good view and room look nice
Thank you Vy for the kind words. I agree with you, Flatts offers great views and the renovation made the apartments really nice. I'm the manager here and would love a chance to visit with you. Swing by the office and visit for a while.
|Recommended: Yes
Clean — Living here has been a fun and chill experience
Thank you Branden, I really appreciate your kind words. Its our residents that give Flatts such an great environment.
|Recommended: No
It is nice, but it needs a few adjustments — I enjoy the community of the Flatts however, communication is definitely a barrier that needs to be worked on. I believe the Flatts has the opportunity to be more transparent with their residents up front rather than later. Also, cleanliness and the inability of certain things working has been an issue in our apartment as well.
Bethany, Thank you for your review. My name is Jeremy and I am the new manager here. I am excited about addressing some of the items you mentioned. I would really enjoy visiting with you about your experience so far. Feel free to stop by the office and visit with me if you get a chance.
|Recommended: YesComfortable size and location for a great price. — If you are looking for a budget friendly and quality apartment, the Flatts is a good choice.