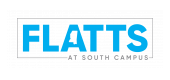 Your Review
Submit a Review

Resident Reviews
|Recommended: YesWonderful place, small but nice. — It's comfortable. And it's clean Although the main floor not the bedroom carpet does keep a lot of dirt.
|Recommended: YesClean — Living here has been a fun and chill experience
|Recommended: YesComfortable size and location for a great price. — If you are looking for a budget friendly and quality apartment, the Flatts is a good choice.
|Recommended: YesGreat Experience — Everyone has been extremely helpful and knowledgeable about any questions I have had.
|Recommended: YesGreat — I love how it is close to campus and very easy to navigate through. It is very well lit at night and has security cameras
|Recommended: YesThe property is nice — I like living here so far, I just have problems with my toilet
|Recommended: YesN A — Awesome experience
|Recommended: YesHome away from home — It's a home away from home. The amenities are great, the staff is friendly and always trying to help
|Recommended: YesNice and impressive — I recommend living here
|Recommended: YesVery helpful — It's been great
|Recommended: YesVery clean, except the stairs area — I would tell them that the inside of the units are spacious and modern, and that the bedrooms are a good size.
|Recommended: YesGood Experience — It is a very good community. Nice people, nice design, and nice scenery.
|Recommended: YesSolid choice for Student Housing. — While pricier than some off-campus living, you get what you pay for as these are some of the nicest student apartments I have been in.
|Recommended: YesAwesome Place — This a great place. The staff is friendly and honest. The location is perfect. The price is the best bang for your dollar in town